CEC convenes meeting to discuss energy and waste management with fuel cell solutions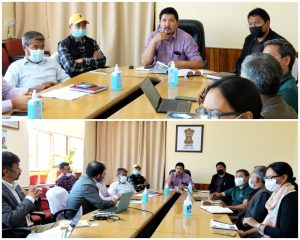 Leh, Sep 06: The Chairman/Chief Executive Councillor, LAHDC, Leh, Advocate Tashi Gyalson convened a meeting today to discuss energy, waste management, and plans for alternate energy solutions with fuel cells in Leh.
The meeting discussed in detail the management of waste materials with the ideas and suggestions from different stakeholders including companies like SPAAK which work on waste management and FCTecNrgy which is an intelligent energy and smart connected solutions provider with expertise in providing fuel cells based solutions with backup power at remote, off-grid locations.
Officials from the said companies presented their nature of works in the waste and energy management sectors and put forth various suggestions to the meeting with regards to the management of legacy waste and energy generation from waste. They also sought feedback from the officials of the Leh district present during the meeting. The meeting also discussed measures on the development of the Horticulture sector in the region through modern-day technologies.
The meeting was attended by Dy Chairman, Tsering Angchuk, EC Horticulture, Ghulam Mehdi Ashoor, RTO Ladakh, EO MCL, BDO Leh, and officials of SPAAK and FCTecNrgy.