CEC convenes meeting to discuss early childhood education measures for school kids of Leh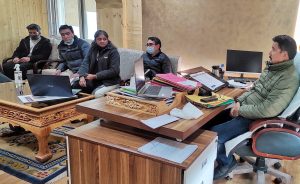 Leh, Nov 27: The Chairman/CEC, LAHDC Leh, Advocate Tashi Gyalson convened a meeting today to discuss early childhood education measures for school students of Leh district. The meeting was attended by Executive Councillor for Agriculture, Stanzin Chosphel, CPO Leh, CEO Leh, and representatives from the 17000ft foundation led by its founder Sujata Sahu. Dy Chairman (EC Education), LAHDC Leh, Tsering Angchuk and Director of School Education, Dr Safdar Ali attended the meeting virtually.
Founder 17000ft, Sujata Sahu gave a detailed presentation on the need for strengthening childhood education measures in Ladakh and highlighted the major works being carried out by the organisation in providing modern education facilities through the means of digital programs in the rural sector especially remote regions of Ladakh.
The meeting also deliberated on various concerns with regards to the need for strengthening primary school education in the UT of Ladakh. CEC Gyalson appreciated the contribution of the 17000ft foundation towards the rural education sector and stated that the Hill Council Leh would work on further strengthening the childhood education sector with various new initiatives in the coming days.