Azadi Ka Amrit Mahotsav: Zanskar Sub Division celebrates Iconic Week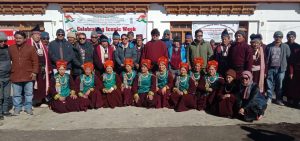 KARGIL, OCTOBER 28, 2021: As a part of Azadi Ka Amrit Mohatsav, Zanskar Sub Division celebrated Iconic Week at Tourist Dak Bungalow Padum here today.
Area Development Officer/SDM Zanskar was Sonam Dorjay was the chief guest on the occasion while the Tsering Angmoo from Abran Zanskar, who conquered Mount Everest in 2016, was also present as the special guest.
Councilor Cha Stanzin Lakpa, Councilor Karsha Stanzin Jigmath, Nominated Councilor Stanzin Chosgail, sub divisional
officers, PRI Members, Nambardars and large numbers of people were present on the occasion.
On the occasion different departments and the local women self help groups had put up their stalls on beneficiary oriented schemes and the local products.
A colorful cultural programme and archery exhibition match were also the part of the event which enthralled the audiences.
While addressing the gathering, the chief guest stressed on the need to preserve culture i.e; folk songs, epics, dance forms, dress, food and language, as most of the areas lost their culture as a result of not preserving it.
Principal Government Model Degree College Zanskar Professor Nasir Shabani spoke about the unsung heroes of the country and also informed the public about the unsung heroes of Zanskar who participated in the 1971 war and were part of the winning Army troop who invaded the Turtuk and Hundurman area from Pakistan.
Councilor Cha Stanzin Lakpa appraised the gathering about the issues of the evacuation of stranded passengers and aspirants of Panchayat Accounts Assistant written test at Kargil with higher authorities of LAHDC, Kargil and government of Himachal Pradesh and steps taken by the LAHDC, Kargil and HP Government.
Speaking on occasion, Dr Tashi Lundup Assistant Professor GMDC Zanskar briefed about the need for a master plan as tourism influence in Zanskar is rising year by year.
On the occasion, Zanskar Administration also appreciated and honored the police party who saved seven precious human lives of non local laborers from Shingkunla pass who were stuck there due to heavy snowfall. The party had also recovered two dead bodies and brought them back to Padum for their last rites.