Ayushman Bhav Health Mela held at Community Health Center Sankoo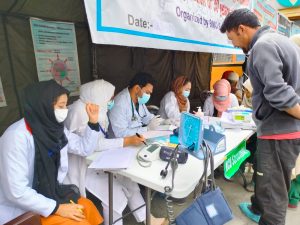 Kargil, Sep 24, 2023: To promote public health and well-being, a Health Mela was organized as part of the nationwide Ayushman Bhav initiative at the Community Health Center in Sankoo, Kargil on Saturday.
At the Health Mela, patients received examinations from a team of doctors, which included Dr. Banazer Khatoon (Consultant Anesthesia), Dr. Mohammed Hussain Wazir (Orthopaedic), Dr. Syed Iftikhar (Physician), Dr. Hasina Batool, Dr. Rabiya, Dr. Mohammed Ali, and Dr. Syed Abul Hassan (Medical Officer of RBSK), all of whom were present at the event.
Various stalls were set up to offer healthcare services to the local community, encompassing general OPD services, orthopedics, physician consultations, blood donor registration, laboratory facilities, and NTEP, among other health services. These services were made available to the general public for their benefit during the Mela.
A stall was established for on-spot creation of ABHA ID Cards and Ayushman Bharat Golden Cards, facilitating equitable access to high-quality healthcare services for beneficiaries.
The primary focus of the Health Mela was the screening of Non-Communicable Diseases (NCDs) such as hypertension and diabetes.
During the event, a total of 14 Health ID Cards and 09 Ayushman Golden Cards were issued to beneficiaries. Furthermore, 90 patients sought medical attention for orthopedic concerns, general OPD services, physician consultations and NCD screenings throughout the Mela.