Animal Husbandry Dept. organizes program for para-veterinarians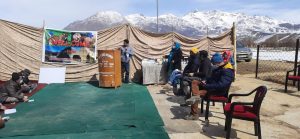 KARGIL, MARCH 05, 2022: Animal Husbandry Department Kargil today organized a one-day refresher course to para-veterinarians of the department at its Cattle Breeding Farm Kurbathang.
Doctors of the department delivered different topics which included an introduction to newly procured medicines, teaching classes on different veterinary clinical cases, treatment and prophylaxis.
Dr Muhammad Ashraf, Manager CB, in his welcome address detailed participants about the program schedule for the day.
Dr Asgar Ali, BVO Sankoo talked about different classes of drugs available including the indication and dosage.
Dr Asgar Ud Deen, TO CAHO, insisted the staff and block officers for timely submission of information to the CAHO Kargil within the stipulated time frame as per the prescribed format.
Dr Zakir Hussain, VAS Kargil delivered his topic on Common Veterinary Gynaecological cases. Dr Ashiq Hussain, BVO Drass briefed the staff on the ongoing integrated sample survey issues faced and suggested solutions.
Dr Muhammad Mussa, DIO Kargil, briefed on the progress assessment of NADCP program issues faced and solutions suggested.
Dr Muhammad Ismail, CAHO Kargil emphasized the staff present in the program for their sincere dedication towards their duties and responsibilities.
At the program, it was impressed upon officers and officials to provide veterinary services to all species of livestock including sheep and goat.
Field employees were given practical training on USG. The attainment of monthly and yearly targets was stressed and various issues pertaining to the field were also discussed.
The CAHO Kargil thanked the staff of the department for their active participation in the refresher course and for making it successful.