Agriculture Dept organises Tour and Training Programme for farmers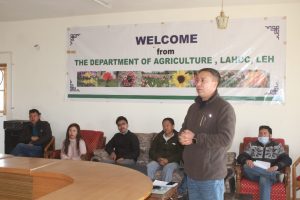 Leh, March 31: A two-day exposure tour and training programme was organised by the Department of Agriculture, Leh for the farmers of Photoksar and Wanla village under the Agricultural Technology Management Agency (ATMA) scheme. District Agriculture Officer, Leh, Tashi Dolma flagged off the exposure tour on the first day of the programme. On the second day of the programme, Agricultural training was imparted to the farmers.
During the programme, the District Agriculture Officer spoke about various control measures that help in preventing pests and diseases. Sub-divisional Agriculture Officer, Leh, Shakeel-ur-Rehman spoke about mushroom cultivation, mulching technology and various other agricultural technologies to the farmers.
Similarly, Agriculture Extension Officer, Khaltse, Kunzang Dolma spoke on organic farming and various techniques involved in organic farming. Research Assistant, Manzoor Ahmad spoke on various greenhouse technologies. A total of forty farmers participated in the tour and training programme.