AERO Khaltsi conducts training on use of Garuda app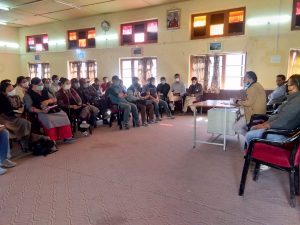 Leh, Oct 06: Assistant Electoral Registration Officer (AERO), Khaltsi, Tanveer Ahmad, today conducted a training session on linking and updating polling station information on Garuda App at sub-division Khaltsi.
AERO Khaltsi spoke on using the Garuda App and the need for updating the required polling station information to the concerned officers and officials.
Supervisors and all the booth-level officers (BLOs) of the Khaltsi sub-division attended the training session.
The Garuda App is developed by the Election Commission of India to integrate all the functions of BLOs, such as capturing the GIS coordinates of polling stations, assured and extended minimum facilities (AMF/EMF) and nearby facilities available around the polling station among other functions.