Advisor reviews NHIDCL projects & plans of UT Ladakh Departments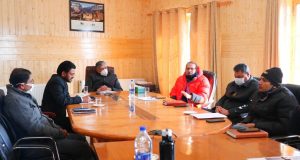 Leh: Advisor Ladakh, UmangNarula, convened a meeting to review various ongoing projects of National Highways and Infrastructure Development Corporation (NHIDCL) on the proposed tunnel, road and infrastructure, at the Secretariat today.
The meeting was attended by Commissioner/ Secretary, AK Sahu; Secretary/ Divisional Commissioner, SaugatBiswas; ADGP, Ladakh SS Khandare; Administrative Secretary, Ravinder Kumar; Deputy Commissioner (DC), Leh, Sachin Kumar, and Deputy Commissioner, Kargil, Basheer-ul-Haq. Managing Director, NHIDCL, KK Pathak, was also present in the meeting.
The Advisor was apprised that NHIDCL has set up its regional office at Leh, and site offices at Kargil, Padum, Keylong and Upshi. It was informed that NHIDCL has already taken up DPR of three important tunnels Zojila Eastern Portal, Shinkun-La, Lachung-La and Tanglang-La and the DPR is in progress.
NHIDCL in a presentation informed Advisor about various projects of different Departments undertaken by them including Ladakh Police, Urban Local Bodies (ULB), School Education, Hospitality & Protocol, and Social & Tribal Welfare Department.
Advisor Narula asked the concerned officials to design solar passive winter-friendly buildings which will help the UT to reduce carbon foot-prints. He said that this can help run the schools in winter also. He also asked them to plan wayside amenities on the Kargil-Zanskar road of NH-301.
Advisor Narula asked Commissioner/ Secretary AK Sahu to explore the possibilities of the construction of additional multi-level parking facilities in Leh town.