Advisor Narula convenes meeting to review implementation of Centrally Sponsored Schemes.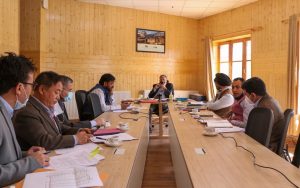 Leh 27th September- Advisor Ladakh, Umang Narula convened a meeting to review the implementation of various Centrally Sponsored Schemes.
The Advisor asked Food Civil supplies and Consumer Affairs Department, to publicize the facilities available under the One Nation One Ration Card (ONORC) Scheme through radio, television and social media. He also asked the department to publicize "Mera Ration App" and increase portability transactions by targeting the migrant labourers.
The meeting also discussed making use of recently launched e-Rupee voucher system in the implementation of various subsidy linked schemes.
While reviewing the implementation of Pradhan Mantri Gram Sadak Yojana (PMJSY), the Advisor stressed on quality monitoring of the roads. It was informed that third party monitoring of the works is being conducted. The Advisor asked the department to strengthen the monitoring process and conduct inspection of the works.
The meeting also discussed the steps being taken for elimination of Single Use Plastics (SUPs). It was informed that a Special Task Force to work on this issue in a mission mode has been constituted. Further a comprehensive action plan has been prepared to address the issues related to the use of SUPs. The Advisor asked the department to get the plan approved by the Special Task Force. Further, it was informed that awareness among the student community is being generated by organizing essay competitions and other activities.
The establishment of Pradhan Mantri Bhartiya Janaushadi Kendras was also reviewed. It was informed that these Kendra's are functional at both the district hospitals and instructions have been issued to the doctors to prescribe medicines in generic names. The Advisor asked the department to review the quantity of sale of generic medicines at these stores. The Advisor stressed conduct of IEC activities to popularize generic medicines and ensuring the availability of these medicines at Pradhan Mantri Bhartiya Janaushadi Kendras.
The meeting was attended by Commissioner/Secretary, Ajeet Kumar Sahu, Secretary, Saughat Biswas, Chief Conservator of Forest, Preet Pal Singh, Secretary, Ravinder Kumar, Director Food Civil Supplies and Consumer Affairs, Anil Koul and Mission Director National Health Mission, Iftikhar Choudhary.