Advisor Ladakh reviews progress to eliminate single use plastic in Ladakh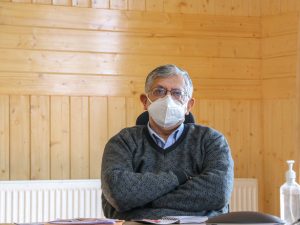 Leh, December 1: Advisor Ladakh and Chairman, UT Level Special Task Force, Umang Narula chaired a meeting to review the progress made for preparation of a comprehensive plan for elimination of Single Use Plastic in Ladakh by the UT Level Special Task Force.
Advisor Narula directed all the concerned departments to prepare an integrated and holistic action plan within the prescribed deadlines in the thematic format circulated by the Ministry of Environment, Forest and Climate Change.
Advisor, Narula directed the Ladakh Pollution Control Committee to spread awareness about recent amendments made in the Plastic Waste Management Rules, by widely publicizing it. Advisor was appraised by the Regional Wildlife Warden, UT Ladakh that earlier, the Ministry of Environment, Forest and Climate Change had amended the Plastic Waste Management Rules 2016, which will prohibit identified Single-Use Plastic items that have 'low utility and high littering potential' such as polystyrene, and expanded polystyrene from 1st, July 2022. The items included earbuds with plastic sticks, plastic sticks for balloons, plastic flags ,candy sticks, ice-cream sticks, polystyrene (thermocol ) for decoration, plates, cups, glasses, cutlery such as forks, spoons, knives, straw, trays, wrappings or packing films around sweet boxes, invitation cards and cigarette packets, plastic, or PVC banners less than 100 microns and stirrers.
Further, he was appraised that up till now 101.1 kg of prohibited plastic has been seized from various violators. He was also informed that the permitted thickness of the plastic bags of 50 microns has been increased to 75 microns and any non-woven plastic carry bag is to be no less than 60 Gram per Square Meter with effect from the 30th September, 2021.
The meeting was attended by Principal Secretary, Forest, Ecology & Environment; Administrative Secretary, Housing & UDD/Commissioner Secretary, School Education; Administrative Secretary, Rural Development & Panchayati Raj/ Industries & Commerce; Administrative Secretary, Information/ Higher Education; Administrative Secretary, Science & Technology/ Youth Service & Sports; Regional Wildlife Warden and District Officer, Pollution Control Board.