Advisor Ladakh Narula chairs third UTLBC meeting in Leh Asks banks to improve credit-deposit ratio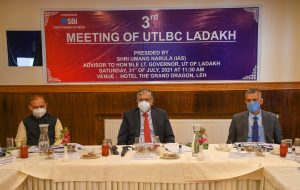 Leh, August 1: Advisor Ladakh, Umang Narula chaired the 3rd meeting of the Union Territory Level Committee (UTLBC) of Ladakh for the quarter ended March, 31, 2021 in Leh.
Keeping in view the low Credit Deposit Ratio in Ladakh as compared to the previous year, Advisor Ladakh, Umang Narula stated that though SBI and J&K banks in the UT have maintained a good CD ratio, considerable effort will be required to meet the RBI benchmarks. He was informed that due to Covid related restrictions the full-fledged banking activities could not be undertaken due to which there was a slippage of 1% in the CD ratio.
The Advisor was informed that the amount of deposits was Rs. 6490.34 crores and advances were only Rs. 2320.08 crores giving an overall CD ratio of 36%.
He added that the extension of banking facilities to all the remotest villages of Ladakh should be the top priority. Advisor Narula directed the concerned officials to complete the survey of unbanked villages as per RBI norms. He emphasized that all such villages should be covered through setting up of branches, employing the BC model and using mobile banking vans etc..
Further, he instructed the convener of the banks to set a target for the private banks to dispense timely benefits to their customers. He emphasized on organizing more financial literacy camps so that people are made aware of various Priority sector bank linked Government schemes and can avail of the benefits of such schemes. Furthermore, the bankers and concerned departments were directed to ensure clear communication about banking benefits at the grass-root level.
Advisor also exhorted upon banks to work out on their shortcomings in achieving the targets on their part and also directed taking timely steps for the early establishment of the RSETIs in both districts of Ladakh.
Principal Secretary, Dr Pawan Kotwal also suggested constituting a technical cell in Ladakh so that the new schemes proposed can be vetted and implemented.
The Regional Director (J&K), Reserve Bank of India, R.O. Jammu, Kamal Prasad Patnaik directed the banks to improve the credit-deposit ratio and underlined the importance of financial inclusion in covering the last mile through the banking channel.
Advisor Ladakh directed Secretary Industries & Commerce, Saugat Biswas, to spread awareness about the various handicraft/ handloom credit schemes on a large scale.
At the outset, Assistant General Manager/Convener UTLBC of UT Ladakh, Tsering Morup, gave a detailed presentation on the Credit Deposit Ratio Position Bank-wise and district-wise, achievements in lending to priority sector/non-priority sectors under Annual Credit Plan 2020-21 under various Government sponsored schemes etc.
The meeting was attended by Principal Secretary, Revenue, Pawan Kotwal; Divisional Commissioner/Secretary Industries & Commerce, Saugat Biswas; Administrative Secretary Animal & Sheep Husbandry, Fisheries, Horticulture, Agriculture & Floriculture Ravinder Kumar. Besides, Regional Director (J&K), Reserve Bank of India, R.O. Jammu, Kamal Prasad Patnaik; GM, State Bank of India, Local H.O. Chandigarh, Binod Kumar Mishra; DGM, State Bank of India, Admin Office, Jammu, Ajitav Parashar and Lead bank officials were also present.