Administration of UT Ladakh increases the state component of the monthly honorarium to Anganwadi Worker to Rs 1300 and to Anganwadi Helper to Rs 650; Increase to benefit 2247 Anganwadi workers and helpers in Ladakh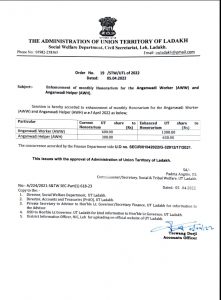 LEH, APRIL 5, 2022: The Administration of UT Ladakhhas increased the honorarium of Anganwadi workers by Rs 700 per month and that of Anganwadi Helper by Rs 350 per month with effect from 1st April 2022. In an order issued by the Social and Tribal Welfare Department today, theState/UT share of the honorarium to Anganwadi worker has been increased to Rs 1300 per month from Rs 600 and to a Anganwadi Helper the State/UT share is increased to Rs 650 per month from Rs 300.
The monthly honorarium of the Anganwadi Worker has a central component of Rs 4500 and with the state/UT component of Rs 1300, the total monthly honorarium of the Anganwadi Worker is now Rs 5,800. Similarly, with a central component of Rs 2250,and the UT component of Rs 650, the monthly honorarium of the Anganwadi Helper is now Rs 2,900. The total outlay for the UT component of the honorarium increased from Rs 1.26 crore in 2021-22 to Rs 2.74 crorefor the year 2022-23.The increase in honorarium will benefit the 1127 Anganwadi Workers and 1120 Anganwadi Helpers in Ladakh.
Under the ICDS scheme, incentive shall also be given against expected regular tasks to the Anganwadi Worker at the rate of Rs 500 per month and to the Anganwadi Helper at the rate of Rs 250 per month.
Besides this, Awards have been instituted at national level with 100 Awards of Rs 50,000/- each for Anganwadi Worker and 50 awards of Rs 40,000 each for Anganwadi Helper.
The Administration of UT Ladakh has also decided to cover all the Anganwadi Worker and Anganwadi Helper under the Anganwadi Karyakartri Bima Yojana (AKBY)to provide life insurance protection along with certain female critical illness benefits to the AWWs and Helpers aged between 18 to 59 years besides coverage under schemes like PMJJBY, PMSBY and Atal pension Yojana.