Administration, Local Farmers Meet to Discuss Export of Apples, Apricots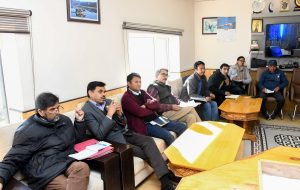 Leh, March 16: The Administrative Secretary, Horticulture and Agriculture Department, Ravinder Kumar chaired a meeting to discuss the export of apples and apricots from Ladakh at the Civil Secretariat, Leh today.
In the meeting, Secretary Ravinder Kumar noted that the export of Ladakh's apples and apricots is a milestone for the region's economy, as it provides a new source of income for local farmers and entrepreneurs.
Secretary Kumar stated that the administration has invested in infrastructure such as cold storage facilities and transportation to ensure that the fruits are delivered in good condition. Secretary Kumar gave directions for a list to be prepared of agricultural/horticulture equipments to be procured by the department as well as areas to be identified for training and capacity building of farmers, processors, and entrepreneurs. He gave directions to the officials for identifying and profiling progressive farmers to support them.
Deliberations also took place on, tissue culture, identification of genome type, promotion of sustainable agriculture, pest control, coddling moth, etc.
After Ladakh became a Union Territory, apricot production was exported for the first time in 2021. In December 2022, 'Raktsey Karpo' apricot from Ladakh got the GI tag. Ladakh also happens to be one of the biggest producers of apricots in India.
The meeting was attended by the Director Horticulture Department; Director DIHAR; Associate Director, SKUAST, Leh; Chief Horticulture Officer, Leh/Kargil; All Entrepreneurs (Agriculture/Horticulture); Processors (Agriculture/Horticulture).