Acting CEC Kargil meets Vice-Chancellor UoL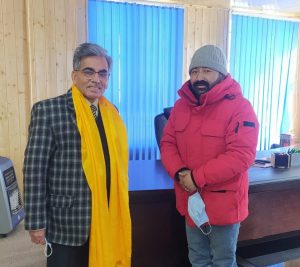 KARGIL, FEBRUARY 19, 2022: Acting Chairman and Chief Executive Councillor (CEC), LAHDC, Kargil, Aga Syed Abass Razvi today met Vice-Chancellor University of Ladakh, Prof. S.K. Mehta at Kargil Administrative Office, UoL.
Razvi raised the demands of students to conduct the examination in online/open book mode and suggested the Vice-Chancellor to resolve the issues of the students at the earliest.
Following a threadbare discussion, Prof. Mehta assured that the varsity will look into the genuine issues and will resolve them at the earliest. The VC said that collective efforts from all stakeholders are needed to make the UoL one of the best institutions.
The acting CEC thanked Prof. Mehta for his visit to Sankoo for the inspection of the proposed site for Government Degree College.
Razvi said that GDC Sankoo should be started at the earliest to which the VC assured that all measures will be taken regarding the matter.
Prof. Mehta further added that initially, Humanities and Science stream courses for undergraduate students will commence from academic session 2022-23.