92 govt employees get 2nd dose of Covid-19vaccine at Khaltsi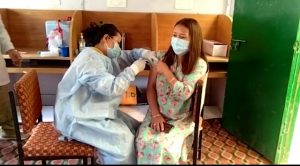 Leh, July 27: A total of 92 government employees between 18-44 age group were given the second dose of Covid-19 vaccine at the Community Health Centre (CHC) Khaltsi today.
The vaccination drive started in the presence of in-charge Block Medical Officer, Khaltsi and all paramedical staff. All the necessary SOPs/rules were strictly followed and Covid Appropriate Behaviour (CAB), including wearing a face mask, washing hands and maintaining social distance, was maintained during the vaccination drive.