7th Stodh Phandhay Tsogspa Archery Tournament concludes Zanskar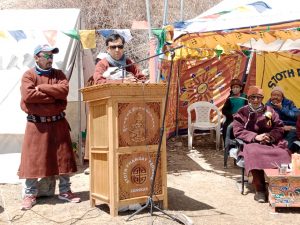 KARGIL, APRIL 17, 2022: The seventh Stodh Phandhay Tsogspa Archery Tournament concluded today at picnic spot Tahan Tungri, Zanskar.
Executive Councilor Tourism, RD and Zanskar Affair, LAHDC Kargil, Er. Punchok Tashi was present as chief guest, officiating SDM Zanskar Tsering Nurboo as the guest of honor while Padma Shri Awardee Tsultrim Chosjor as a special guest.
While addressing a gathering, EC Tashi appreciated the Stodh Phandhay Tsogspa for their selfless help to the patients and needy people of Zanskar and thanked the society for their kind contribution for helping the people of Zanskar in Leh also.
The EC said that organizing such tournaments creates team spirit and brotherhood among people, especially youth. He also congratulated the position holders and other participants for taking part in the tournament.
EC Tashi also distributed token money of Rs 45,000 among organizers, position holders, musicians and cultural troops from his own pocket.
The tournament cup was won by Nyari Zangla team with a margin of 9 points defeating the second position Ibex Salapi team while the third position was taken by King Kanishka Sani.
Trophy and prizes were also distributed among the position holders, man of the match and series in presence of the chief guest and other guests.
The phandhay Tsogspa handed over cash of Rs.113,500 to a poor widow of Abran village for the construction of a residential house through its president on the occasion.
A colorful cultural program was also presented by the various cultural troops and position holder teams.