2 day District Level Multilingual Hussaini Mushaira concludes in Kargil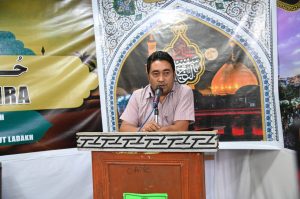 KARGIL, AUGUST 31, 2021: 2 Day District Level Multilingual Hussaini Mushaira organized by Ladakh Academy of Art, Culture and Languages (LAACL), Kargil concluded at Language Centre Academy Complex Kargil here today.
Executive Councilor for Health Mohsin Ali who was the chief guest on the occasion.
On the 2nd day today more than 20 poets presented their poetic renderings mostly aimed at rendering praise and paying rich tributes to the martyrs of Karbala, and reflecting upon the philosophy of martyrdom.
The poetic session was presided over by noted senior poets Sheikh Bashir Shakir, AkhoneAsgar Ali Basharat and Ghulam Ahmad Khan Jawan while the poets who presented their poetic renderings included Ghulam Ahmad Khan Jawan, Sheikh Bashir Shakir, Raza Amjad Badgami, Muhammad Ali Ashoor, Nasiruddin Khafee, Sibte Hassan Kaleem, Tsewang Rigzin, Mukhtar Zahid, Nissar Hussain Nissar, Muhammad Raza Saqi, Sajjad Ali Shujaat, Talib Hussain Goshani, Arif Ladakhi, Ghulam Nabi Skith and Abdul Hadi Balti.
Speaking on the occasion, EC Mohsin Ali said that it is an overwhelming ocassion that after a halt caused due to COVID-19 pandemic, social activities are continuing and organising this Hussaini Mushaira in order to pay tribute to the martyrs of Karbala is an appreciable step taken by the LAACL Kargil. He said that the message and sacrifice of Imam Hussain (AS) transcends across the world without the prejudice of religion, community and creed and the way poets have paid tributes to Imam Hussain (AS) and the martyrs of Karbala in this poeric session was a great experience to see.
EC Mohsin stressed that the seniors poets should be endeared by the society and literary community as they had shown the path of literature to the present generation. He said that the participation of youth towards poetry is overwhelming, however they should learn the nuances of poetry from the seniors with dedication and try to excel in it.
Earlier during the welcome speech, Deputy Secretary LAACL Kargil, Nazir Hussain said that more such literary programmes will be organised in future to provide suitable platform to the budding poets to refine their poetic abilities under the guidance of the senior poets.
Later Officer LAACL Tsewang Rigzin presented vote of thanks to the concerned officers, poets, guests and other agencies in making the event successful.
Among others who were present on the occasion included poets, writers, district officers, students from different schools and good number of literary enthusiasts.
Noted Purgi and Urdu poet Nasir Ud Din Khafi conducted the proceedings of the poetic session held today.
Over 50 seniors as well as novice poets from across the district representing Urdu, Balti, Purgi and Shina Dardi languages participated in the 2 day literary.