Zila Sainik Welfare Office Leh observes Armed Forces Flag Day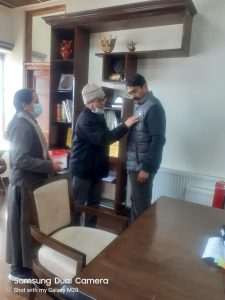 Leh, Dec 08: Zila Sainik Welfare Office, Leh observed Armed Forces Flag Day on 7th December, along with the rest of the country. Armed Forces Flag Day is observed to honour the martyrs of defence forces and to remind everyone to contribute to the welfare of the affected families by donations.
The staff of Zila Sainik Welfare Office, Leh observed the day by collecting donations/ contributions and distributing token/car flags. They started their collection drive from Divisional Commissioner, UT Ladakh, Saugat Biswas and other officers and officials of the UT Secretariat.
Donations were also collected from the public and commercial establishments that whole-heartedly contributed to the cause.