World No Tobacco Day celebrated at Bhimbet block of Drass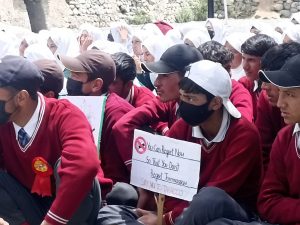 KARGIL, May 31, 2022: Tehsil Legal Service Committee Drass in collaboration with Wildlife and Nature Trials and Humas upliftment Organization Drass today organized an awareness rally World No Tobacco Day at Bhimbat Drass in which various schools of Bhimbat Block participated.
The students of Government Higher Secondary School Bhimbet, Himabass Public High School Bhimbat, Government Girls Middle School Bhimbet and members of several organizations participated in the rally by holding placards as part of awareness to eradicate smoking. The program was also attended by medical Officer Bhimbet Mohi-ud-Din.
The rally started from War Memorial with slogans like "say no to smoking", "say yes to life", "quit smoking live life," "smokers are jokers" etc. The rally moved from Bhimbet market and ended at campus of HSS Bhimbet.
I/C SHO Thinles Nambardar Bhimbet Rahim and other members of organizations also participated in the rally. Addressing to the gathering Madam Deldon Angmo stressed on the younger generation not to get addicted to smoking, chewing tobacco and other bad habits. The awareness program concluded with vote of thanks by principal HSS Bhimbet.
This yearly celebration informs the public on the dangers of using tobacco, the business practices of tobacco companies, what the World Health Organization (WHO) is doing to fight against the use of tobacco, and what people around the world can do to claim their right to health and healthy living and to protect future generations.