World Disability Day: CEC Feroz Khan calls for special care to specially-abled kids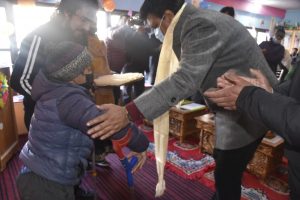 KARGIL, DECEMBER 03, 2021: Chairman and Chief Executive Councillor LAHDC Kargil, Feroz Ahmed Khan attended an event on World Disability Day organized by REWA Na KASCO Disability Centre in collaboration with Cerebral Palsy Society of Ladakh today at Munshi Habibullah School.
Executive Councillor for Tourism Er Phunsok Tashi, Executive Councilor for Works Aga Syed Abbas Razvi, Executive Officer Municipal Committee Kargil Shafaqat Ali Khan, Medical Superintendent Kargil Kacho Liaqat Ali Khan, President REWA Na KASCO Disability Centre Gulzar Hussain Munshi, President Cerebral Palsy Society of Ladakh, specially-abled children, parents besides other officials attended the event.
While addressing the audience, CEC Khan emphasizes that specially-abled children often suffer due to lack of special care centres. With the availability of such centres these kids will excel and achieve heights of success like others
He asserted that the world has seen many great personalities who despite their disability have excelled in their lives and shined in many areas.
The CEC applauded the efforts of parents in nurturing such kids and said that as a society we have to support them and provide them enough opportunities to excel.
Khan also appreciated the efforts of REWA Na KASCO for providing special care and education to these kids.
The CEC announced to allot a Pickup Van and 5 lakh for purchase of special equipment on behalf of LAHDC Kargil.
On the occasion, EC Phunsok Tashi said that more awareness regarding such care centres for specially-abled kids should be disseminated in the society so that parents of these kids come forward and enrol them in such centres for their better future.
Gulzar Hussain Munshi and Coordinator REWA Na KASCO Sajjad Hussain Munshi talked at length about the facilities available to the especially able kids at the centre, President Cerebral Palsy Society Kargil and parents of the specially-abled kids also addressed the gathering.
Earlier the specially-abled Students presented different cultural programs in front of the dignitaries.
The CEC along with other dignitaries felicitated the students with certificates and sports kits sponsored by J&K Bank, for extraordinary performances in academics and extra-curricular activities.
Meanwhile, the CEC also visited different sections and classes of the disability centre and interacted with the students.
Pertinently, the centre has identified 335 patients across the district, while therapy, education and other services are being provided to the students at the centre.