World Bicycle Day: Cycle rally held in TSG Block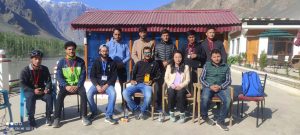 KARGIL, JUNE 03, 2022: On the occasion of World Bicycle Day, Nehru Yuva Kendra Kargil in collaboration with Adventure Sports Club Trespone today organized a cycle rally at TSG Block.
Executive Councilor Works, Aga Syed Abbas Razvi was the chief guest on the occasion. The cycle rally started from Kanoor Bridge to Ashina resort earlier this morning.
Speaking on the occasion, EC Razvi stressed on the importance of physical exercise in maintaining a healthy lifestyle and said that cycling is one of the best forms of exercise.
He said that the concerned club should escalate adventure activities and engage more and more youths in their programs for the purpose of physical fitness.
On the occasion, District Youth Officer, NYK Kargil made the participants aware of the importance of cycling in day-to-day life.
President ASC Trespone Hadi Maisum thanked DYO, NYK for organizing the event. At the end of the rally, participants were given medals and refreshment.
World Bicycle Day, celebrated every year on June 03, aims to develop a culture of cycling for basic transportation, commutation, and strengthening physical, and mental health.