Workshop on CBSE affiliation, curriculum combination held at Kargil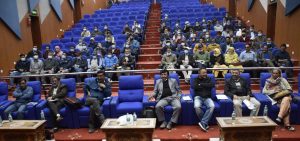 KARGIL, MAY 06, 2022: The Education Department under SAMAGRA SHIKSHA today organized a one-day workshop on Central Board of School Education (CBSE) affiliation and curriculum/subject combination at Kargil.
The day-long workshop was organized under the guidance and directions of Director School Education Ladakh, Dr Safdar Ali (IRS) and was meant to inform the school heads and school teachers regarding CBSE affiliation.
Chief Education Officer Kargil, Mushtaq Ahmad was the chief guest on the occasion. Syed Sajad coordinator SAMAGRA SHIKSHA, Zeeshan Ali Haider Nodal Officer Scholarships and principals of all Government Higher Secondary Schools of Kargil, CBSE task force, teachers and lecturers attended the workshop.
At least 20 resource persons which include Headmasters and School Principals of Ladakh were sent to New Delhi on April 21 for an orientation program organised by CBSE Headquarters after UT Ladakh got affiliated to the CBSE.
During the workshop, resource persons imparted training to the heads of the institutions regarding different aspects of CBSE including examination pattern conducted internally by school DIET school groups, grading and other aspects of CBSE.
In the program, the participants were briefed about the affiliation and the examination process, academic teaching and learning process and information technology interventions.
Earlier this year, the School Education Department, UT Ladakh, which was previously affiliated to the Jammu and Kashmir Board of School Education (JKBOSE), has now got affiliated to the CBSE.