Wildlife Week in Kargil started with cleanliness drive under Azadi Ka Amrit Mahotsav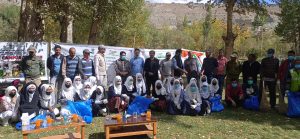 KARGIL, OCTOBER 02, 2021: Executive Councillor for Works and Information Aga Syed Abass Razvi today kick started
the weeklong celebration of Wildlife Week by Wild Life Department Kargil under Azadi Ka Amrit Mahotsav at Rgyal Khatoon Park Biamathang here today.
A cleanliness drive, pledge and signature campaign were the major highlights of the opening ceremony.
The event was part of the series of programs conducted by the Wildlife Department Kargil in collaboration with different departments and the event today was organized in collaboration with the Municipal Committee Kargil and Education Department Kargil.
Speaking on the occasion, EC Syed Abass Razvi said that it is the duty of both locals as well as tourists visiting Ladakh to keep Kargil clean and green.
Making mention of the fragile environment of Ladakh, he said we should all come forward to adopt sustainable living which will help in sustainable development and healthy life for both humans as well as wildlife of the region.
Divisional Forest Officer Kargil, Sajid Sultan in his address said that cleanliness is part and parcel of human and ecological well-being. He urged people to celebrate this year's wildlife week just thinking about the motto live and let live. "If we have a right to live on this planet, then other creatures of God too have equal rights," he said.
District Wildlife Warden Kargil, Raza Ali said the program will continue for one week with different events each day with different line departments.