Weekly talk series: Founder SECMOL, Director Snow Leopard Conservancy interact with faculty, students at GMDC Zanskar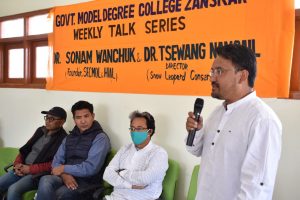 KARGIL, SEPTEMBER 05, 2021: As a part of its weekly talk series, Government Model Degree College (GMDC) Zanskar on Saturday invited founder SECMOL and HIAL Dr Sonam Wangchuk and Director Snow Leopard Conservancy Dr Tsewang Namgail to the college who interacted with the faculty members and students.
The invitation of the guests to the event was facilitated by Assistant Professor Sociology, Tashi Lhundup.
Principal GMDC Zanskar Nassir Shabani, Principal Government Higher Secondary School Padum, faculty members and students of GMDC and students of Higher Secondary School Padum attended the talk session.
Dr Sonam Wangchuk spoke about the overall importance of education in general and education in Zanakar in particular. He also threw light on the importance of keeping ancestral values intact in the present times of modernization.
Dr Tsewang Namgail in his address enlightened the students about his experiences in Zanskar in the context of wildlife conservation.
Earlier, during the the welcome address Principal GMDC Zanskar Nassir Shabani expressed gratitude to the speakers for having spared time to interact with the faculty and students. He also spoke about the possibilities of collaborating skill enhancement courses with HIAL.
Meanwhile, the speakers also responded to different questions raised by the students.
The proceedings of the programme were conducted by Assistant Professor English Taira Bano while Assistant Professor Sociolgy Dr Tashi Lhundup delivered the vote of thanks at the end.