Week-long folk music workshop commences in Leh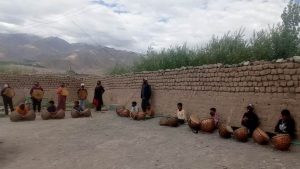 Leh, July 23: The week-long folk music workshop organised by the Ladakh Academy of Art Culture and Languages, Leh, for the children of Ladakh's musician community commenced at Chuchot Zamchung.
A total of 27 children enrolled for the workshop, including 18 for daman and 9 young girls for daff. The children would learn the skills of folk music, daman and daff during the folk music workshop. The workshop is being organised by strictly adhering to Covid-19 protocols and Covid Appropriate Behaviour (CAB).