VC UoL calls on CEC Kargil Discusses various matters with regard to functioning of UoL in Kargil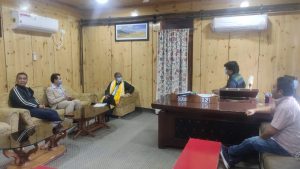 KARGIL, SEPTEMBER 13, 2021: Vice Chancellor University of Ladakh (UoL) Dr Surendra Kumar Mehta called on the Chairman and Chief Executive Councilor, LAHDC, Kargil Feroz Ahmad Khan at the Council Secretariat Kurbathang here today.
Executive Councilor for Health Mohsin Ali, Registrar UoL Imteeaz Kacho and Dean Academic Affairs and Controller of Examinations Professor Deskyong Namgyal were also present during the meeting.
The CEC congratulated VC UoL for his new appointment and during the course of meeting detailed deliberation and discussion was held on the functioning of the UoL and other aspects.
The VC UoL Ladakh informed the CEC Kargil that all efforts are being made to turn the University into a national and international level institute. He further discussed the matters with regard to land for the establishment of UoL campus in Kargil and added that once the infrastructure is raised other aspects of the University can commence smoothly.
The CEC assured the VC UoL that all necessary measures will be taken once the Kurbathang Lower Plateau gets evacuated as it has been proposed for such constructions.
CEC Khan also raised the issue of Sankoo Degree College with the VC calling it a long demand of the students of the region as 40 per cent population of the district is saturated in the area.
The VC assured the CEC that the matter will be taken with up with the concerned authorities. He also underlined the need for organizing University Council meeting in near future.
The CEC Kargil further said that the LAHDC Kargil has always extended its support to the UoL Ladakh for strengthening of higher education in the district, adding he assured the VC that all required measures to achieve this goal will be taken in future as well.