VC University of Ladakh visits Kargil Campus, proposed Sankoo college site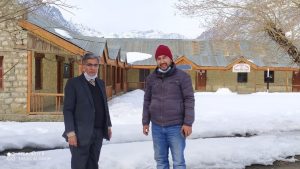 KARGIL, FEBRUARY 18, 2022: Prof. S.K Mehta, Vice-Chancellor, University of Ladakh (UoL) on Thursday visited Kargil Campus and interacted with Director Kaneez Fatima and staff of the campus.
Prof. Mehta deliberated on the importance of judicious utilization of time and asked faculty members to come up with major and minor projects besides regular teaching.
He assured full support to the director and faculty in every endeavor. He also appreciated the efforts of Kaneez Fatima in managing and developing the campus.
In the afternoon, the VC visited the proposed site of Sanko College and buildings at higher secondary and high school where college can be started from 2022-23 academic session.
Prof. Mehta expressed his discontent with the college site because of its rocky and hilly nature. He said all efforts shall be put forth to start the session at GDC Kargil, satellite campus Sankoo adding that initially, basic science and humanities subjects can be introduced.
A student delegation called upon Prof. Mehta with their demand to conduct the examination in online/open book mode. The student delegation was led by Student Council President GDC Kargil and Drass along with other student organizations of Kargil.
After detailed discussion and deliberation, the students were convinced that it is not suitable for students of UoL for open book/online examination.
VC advised the students to revert back to studies and assured them the varsity will look into genuine issues and will take care of their demands in fast track manner. He emphasized that all of us should work in making UoL one of the best institutions.