UT Level Sanctioning Committee Ladakh recommends 11 new projects for Watershed Development under PMKSY- 2.0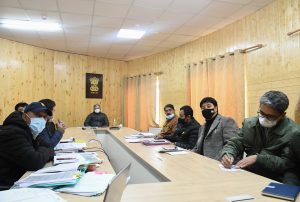 Leh, February 8: A meeting of the UT Level Sanctioning Committee (UTLSC) to finalize the Preliminary Project Reports under Watershed Development Component of Pradhan Mantri Krishi Yojana 2.0 (WDC-PMKSY 2.0) for further submission to the Ministry was held under the Chairmanship of Advisor Ladakh, Umang Narula at Secretariat, Leh.
The Advisor directed the officials to work keeping in mind the main objective of Watershed Development which is to improve water conservation, irrigation facility, and land use pattern, leading to increased agricultural productivity in drought-prone and desert areas. He added that Watershed Development can alleviate poverty, provide better livelihoods, and improve the biophysical and socio-economic environment that would in turn bring about sustainable development in Ladakh. While commenting on the institutional preparedness, Advisor Ladakh stated that 'convergence' with the schemes is a necessary step to accomplish the plans envisioned in the developmental plans of UT Ladakh and directed the officials to ensure convergence during the preparation of the Detailed Project Report (DPR).
Commissioner/ Secretary, Ajeet Kumar Sahu added that an expert agency viz. PDCOR is hired for preparing detailed master plans of irrigation, flood control, and water conservation sectors in Ladakh and they can be roped in for more effective execution of the projects.
During the meeting, the Advisor also reviewed the presentation given by the Director, Rural Development on WDC-PMKSY in UT Ladakh including total-micro watersheds (MWS); total untreatable and treatable MWS; total MWS covered under pre-Integrated Watershed Management Programme (IWMP) schemes of Department of Land Resources (DoLR); total MWS covered under IWMP/ WDC-PMKSY of DoLR (WDC 1.0); balance micro watersheds not covered to date; area allocated by DoLR for 2021-22; Projects (clusters of micro-watersheds) proposed under WDC-PMKSY 2.0 and estimated expenditure of the projects. The Advisor also discussed the prospects of sea buckthorn plantation in flood-prone zones as sea buckthorn plants are known for their role in preventing soil erosion, wildlife protection, and land improvement amongst others.
Furthermore, the proposal of the Rural Development department for Rs. 6086.64 lacs and for an additional 25% area an amount of Rs. 1521.66 lacs for two more projects, covering eleven projects were approved in the meeting for submission to the Ministry of Rural Development, Government of India.
The meeting was attended by Administrative Secretary, Finance Department; Principal Secretary, Planning Development & Monitoring/Forest Department; Commissioner/Secretary, PHE/I&FC Department; Secretary, Rural Development Department; Secretary Agriculture/Animal/Fisheries Departments; Deputy Commissioner/CEO, LAHDC, Leh/Kargil; Director, DIHAR, Leh; Director, Rural Development; Director Animal Husbandry; Director Horticulture; Assistant Commissioner Development, Leh/Kargil; Chief Agriculture Officer, Leh and Representative of SKUAST.