UT Ladakh to have 4 Bio-Medical Waste Treatment Facilities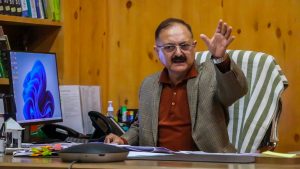 Leh, May 26: 'The Union Territory of Ladakh will have four Bio-Medical Waste Treatment Facilities at Leh, Kargil, Nubra, and Zanskar each.' This was shared in a review meeting chaired by the Principal Secretary, Health and Medical Education, UT Ladakh, Dr. Pawan Kotwal.
In the meeting, the Principal Secretary, Dr. Pawan Kotwal said that the scientific disposal of biomedical waste through segregation, collection, and treatment in an environmentally sound manner reduces the adverse effect on the public and on the environment.
During the meeting, it was observed that the inappropriate disposal of bio-medical waste upsurges the risk of infection; encourages recycling of prohibited disposables and disposed of drugs, and develops resistant micro-organisms. The Principal Secretary was apprised that the quantum of waste generated in hospitals in Ladakh is estimated to be 1 kg per bed. Further, it was shared in the meeting that plots of land for setting up these Bio-Medical Waste Treatment Facilities have been identified and stand handed over to the Health Department in both the districts.
To treat the bio-medical waste generated in Ladakh, the Principal Secretary directed concerned officials to float a Request For Proposal (RFP) tender by the end of this month for setting up the Bio-Medical Waste Treatment Facilities.
Bio-medical waste includes human & animal anatomical waste, treatment devices, and other materials used in health care facilities during research and treatment. According to the Bio-Medical Waste Management (BMW) Rules, 2016 the hospitals are required to put in place the mechanisms for effective disposal either directly or through common Bio-Medical Waste Treatment and disposal facilities.
The meeting was attended by Sajjad Mufti, Chief Wildlife Warden, UT Ladakh; Dr. Iftakhar Chowdhary, Additional Secretary/ Mission Director-NHM, CEO-SHA, Ladakh; Shrikant Balasaheb Suse, Deputy Commissioner, Leh; Santosh Sukhadeve, Deputy Commissioner, Kargil; Dr. Motup Dorjey, Director Health, Ladakh; Dr. Mohd Raza, Director Sheep, and Animal Husbandry; Ruksana Parveen, District Officer, Ladakh Pollution Control Board; Dr. Tsewang Chorol, Medical Superintendent, SNM hospital, and officials of Health Department.