UT Ladakh signs MoU with SECI for 50 MW SPP. Another big step towards Carbon Neutrality & Clean Power: LG Ladakh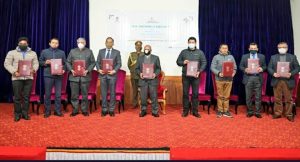 Leh, April 06: On the historic road ahead to tap the potential of renewable energy of Ladakh, a Memorandum of Understanding (MoU) was signed between UT Administration, LAHDC Leh and Solar Energy Corporation of India (SECI Ltd) for setting up a 50 MW solar power project at Taru, Leh.
The three parties signed the MoU in the presence of the Lieutenant Governor, Ladakh, RK Mathur, who was joined by CEC, LAHDC Leh, Advocate Tashi Gyalson; Member of Parliament, Ladakh, Jamyang Tsering Namgyal; CMD SECI, Jatinder Nath Swain; Advisor to LG, Umang Narula; Secretary, PDD & NRE, Ravinder Kumar and Deputy Commissioner Leh, Shrikant Balasaheb Suse.
In his address, LG Mathur lauded SECI for taking the initiative of setting up a reasonably large project of 50 MW in contributing to meet the power needs of Ladakh by using clean solar energy. He informed that similar projects are in discussion with SECI. LG Mathur stated that such projects would lead Ladakh closer to attaining the vision of a carbon-neutral Ladakh.
LG Mathur shared that these projects would play a crucial role in contributing to the economic growth and create jobs in Ladakh.
He also stressed that Ladakh's potential to produce 33GW renewable energy could play a huge role in taking Ladakh on the path of carbon neutrality by reducing and eliminating the dependency on fossil fuels for generating power.
LG Mathur appreciated the participation of LAHDC Leh and MP Ladakh, Jamyang Tsering Namgyal, for their efforts to help the initiative succeed.
LG Mathur also informed the officials of another pilot project being discussed with SECI to meet the energy requirements for heating and providing electricity to the Sonam Norboo Memorial Hospital in Leh by using clean hydrogen energy.
Terming the MoU as a historic new start for UT Ladakh, Chief Executive Councillor, LAHDC Leh, Tashi Gyalson shared that the MoU is the result of prolonged deliberations with SECI to make it beneficial for the locals under the guidance of Lieutenant Governor, UT Ladakh. He added that the project was initiated to make Ladakh economically self-reliant by providing new employment opportunities for Ladakhi people. He stated that power would be available at a lesser tariff to the people of Ladakh.
MP Ladakh, Jamyang Tsering Namgyal, expressed his hope that the tripartite MoU would be a great step towards fulfilling PM Modi's vision to make Ladakh a carbon-neutral region. He shared that this step would help generate employment opportunities for locals and fulfil the aspirations of the people of Ladakh. This MoU is a step towards making Ladakh self-reliant in the energy/power sector. He requested the UT Administration and LAHDC to solarise schools and hospitals at all levels.
Secretary, PDD & NRE, Ravinder Kumar, shared that Ladakh can produce 33 GW power, including 26 GW of solar power. He highlighted the achievements of the Power Development Department and New and Renewable Energy. Secretary Ravinder also shared that Ladakh has surplus power in the summer while there is a power deficit in the winter. He said that the project would reduce the dependency of Ladakh on the Northern Grid.
Speaking during the event, CMD apprisSECI, Jatinder Nath Swain, described the MoU as a significant moment for the organisation. He shared that the MoU with UT Ladakh of 50 MW solar power is designed to produce 16MW power at a constant rate for 14 to 16 hours which would go a long way in securing energy independence for the region. He also highlighted that the MoU would open up avenues or act as a testbed for other developers or corporations, both private and public, to invest in Ladakh to tap the enormous potential of renewable energy in the form of solar and wind. This MoU would also act as a revenue generator for Ladakh. He also shared that SECI, in association with LREDA, would start skill development initiatives.
DC Leh, Shrikant Suse, gave the vote of thanks.
Executive Councillors of LAHDC Leh; Divisional Commissioner, Ladakh, Saugat Biswas; Secretary, Law, P P Singh; Director, Power Systems, SECI, S K Mishra; Chief Engineer, Distribution, G A Mir; PD LREDA, Nissar Hussain; Senior Project Manager, SECI, Debajyoti Bardoli and other officers/officials of UT Administration were present during the event.