UT Ladakh holds first meeting of Wetland Authority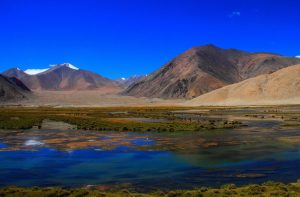 Leh, Sep 22. The first meeting of the Wetland Authority for UT of Ladakh was held under the chairpersonship of Advisor Ladakh, Umang Narula, today, at the UT Secretariat.
The member-secretary of the Authority, Preet Pal Singh briefed the members about the duties and responsibilities of the Authority as mentioned in the Wetlands (Conservation and Management) Rules, 2017.
It was decided that wetlands in Ladakh would be identified using a combination of available geospatial imageries and on-ground surveys. The Authority empowered the Chairman of the Authority to constitute a Technical Committee to advise the Wetlands Authority on all technical matters. Likewise, the Authority empowered the Chairman to constitute a Grievance Committee to provide a mechanism for hearing and forwarding the grievances raised by the public to the Authority.
The meeting was attended by Ajeet Kumar Sahu, Commissioner/Secretary, Saugat Biswas, Divisional Commissioner, Mehboob Ali Khan, Secretary, Tourism; Ravinder Kumar, Secretary Animal/Sheep Husbandry; Shrikant Balasaheb Suse, Deputy Commissioner, Leh; Santosh Sukhadeve, Deputy Commissioner, Kargil; Dr. Khursheed Alam Khan, Scientist 'C', IRO Jammu and Dr. Vimal Hatwal, IRO Chandigarh.