UT Ladakh Admn commences issuance of RC Leh district admn issues 419 certificates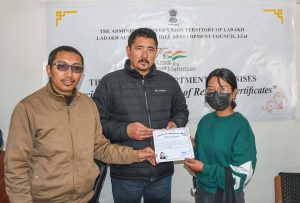 Leh, Oct 18: The Administration of Union Territory of Ladakh has authorised the concerned Tehsildar as the competent authority to issue Resident Certificate. In this context, a four-day special camp for issuing Resident Certificate is being organised by the District Administration Leh commencing from today.
The special camp is being held in all the offices of Tehsildars of the Leh district. Deputy Commissioner, Leh, Shrikant Suse visited Tehsil office Leh to inspect the arrangements made for the special camps.
A total of 419 resident certificates were issued to the eligible person today. Out of the 419, 118 certificates were issued in Leh tehsil, while 53 in Saspol, 52 in Kharu, 95 in Khaltsi, 29 in Diskit, 07 in Durbuk, 37 in Nyoma and 28 in Sumoor tehsil respectively.
Apart from the special camp, any eligible applicant can apply for the resident certificate from the concerned tehsildar on all working days.