UT Administration to revamp School Educational infrastructure in Ladakh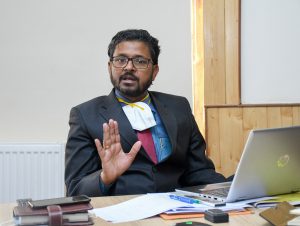 Leh, June 06: In continuation of various interventions being made to revamp the school education system in the government schools of UT Ladakh, the School Education Department is taking steps to overhaul the existing infrastructure and also build new state-of-the-art infrastructure for holistic development of the students.
In this regard, the Commissioner/Secretary, School Education Department, UT Ladakh, Ajeet Kumar Sahu reviewed the progress of the infrastructure development of the proposed Model High School at Thiksey, Leh. The Consultant agency for the project gave the Commissioner/Secretary a presentation on the planning and designing of the school in compliance with the norms of the Central Board of School Education (CBSE) Standard. Earlier this year, in a significant move, the School Education Department, UT Ladakh got affiliated with the CBSE. The UT Administration is preparing a master plan for each and every HSS and HS of Ladakh in the first instance to saturate all the infrastructure gaps. This master plan will include academic, administrative, and residential zone, along with open spaces for the playground. The consultant informed that the master plan will have provisions for laboratories, multipurpose art/recreational/music/dance rooms, library, sports facilities, disabled friendly access to all buildings, a cultural street with an exhibition space, and a canteen among others. He shared that all the buildings will be solar passive, south facing, and energy efficient.
The Commissioner/Secretary, Ajeet Kumar Sahu exhorted that school buildings in Ladakh be made accessible to students with disabilities, ensuring an inclusive school environment and that any barriers they face are actively addressed and removed. To enhance the mental, creative and inquisitive horizon of the students, the Commissioner/Secretary emphasized the creation of innovative laboratories in schools. He said all the laboratories in schools should be user-friendly and enable convenient access to the students.
In the meeting, the Commissioner/Secretary was also informed that a Detailed Project Report for a 24X7, centrally heated, all-season, stand-alone library cum reading rooms with a seating capacity for 200 students is also being prepared. Meanwhile, a proposal to upgrade the existing government school in Chuchot, Leh to a Children with Special Needs School (CWSN) is also underway, the official added. Besides, a similar school for upgradation in Kargil is being identified.
The meeting was attended by the Director of School Education, Dr. Safdar Ali; Superintending Engineer, Nisar Ahmed; Executive Director (P), NHIDCL, Col. Rajeev Kumar (Retd.); DGM (P), Jogadenu Raghuram, NHIDCL and officials of the Consultant agency for the project.