UoL Kargil campus celebrates International Women's Day LAHDC Kargil has proposed reservation for women representation to make council gender-free: CEC Feroz Khan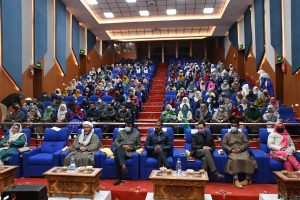 KARGIL, MARCH 08, 2022: University of Ladakh (UoL) Kargil Campus today celebrated International Women's Day on the theme "Gender equality today for a sustainable tomorrow" at auditorium hall, Kargil.
Chairman and Chief Executive Councilor (CEC), LAHDC, Kargil, Feroz Ahmed Khan was the chief guest while Deputy Commissioner and CEO, LAHDC, Kargil, Santosh Sukhadeve was the guest of honour.
Registrar UoL, Imteaz Kacho, Director Kargil Campus UoL, Kaneez Fatima, Councilor Muhammad Ali Chandan, besides a number of students, teaching staff, and women achievers were present during the day-long program.
While speaking on the occasion, CEC Khan congratulated the UoL Kargil campus for organizing the program on International Women's Day.
While highlighting the importance of women's education, Khan said development is a multi-dimensional process and the role of women in decision making is important.
The CEC said in a democratic country like India, the equal representation of women in decision-making will enhance the policy framing.
"It will ultimately give the holistic developmental perspective safeguarding the rights and freedom of every individual irrespective of their gender," he said.
Khan urged PRI members to inculcate views of women in decision-making in villages to give a different perceptive in any developmental work.
He stressed on women to be financially independent in their fields of livelihood saying it will enhance their confidence and encourage them to make more progress in their lives.
The CEC said LAHDC Kargil is committed to channelizing various schemes at the ground level to provide a livelihood to women entrepreneurs.
He said in order to spread awareness about various schemes, respective departments along with banks should come forward to spread awareness among the masses.
Future more, Khan said LAHDC Kargil has also proposed a reservation for women representation in LAHDC Kargil to make the council gender-free.
On the occasion, DC Santosh Sukhadeve hailed the contribution of social reformer and educationist Savitribai Phule in spreading awareness about the rights of women in India.
While stressing on freedom of women, he said it's important that women should be financially, socially, and politically aware to exercise their rights.
DC Santosh also requested women to participate in co-curricular activities in order to boost their confidence which is the basic pillar to excel in any field.
He assured that the District Administration Kargil is committed to providing education for all for which many steps have been taken and some are in pipeline which will benefit education in the district.
Earlier, during her introductory remarks, Director UoL Kargil, Kaneez Fatima thanked all guests with their presence and said in the contemporary world, women are not lagging behind in any field and platforms are open for women to compete.
Fatima said in this regard, the varsity's Kargil campus is striving hard to provide affordable and accessible education to all.
The Director urged all the girl students to spread awareness among their social circles in order to make education more inclusive and progressive in gender terms.
During the program, women achievers of the Kargil district from different fields were felicitated with mementos and were given certificates of appreciation.
On the occasion, a short documentary film titled "women a journey to empowerment" produced by students of the Sociology Department, UoL Kargil campus was also screened.
An impressive skit projecting the existing gender discrimination in society was also presented by Ranthag Theater Group Kargil.
In his concluding remarks, Registrar UoL, Imteaz Kacho, thanked the Kargil campus for conducting such an impressive program.
He hailed the contribution of women achievers of Kargil and said in the future Kargil will have many more women contributing their services in the development of Kargil.