UoL in collab with Power Grid observes Vigilance Awareness week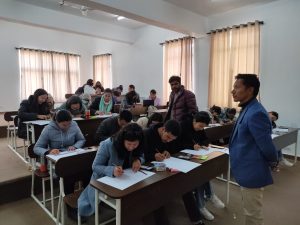 Leh, Nov 05: The NSS unit of the University of Ladakh in collaboration with Power Grid, Phyang, Leh observed Vigilance Awareness Week at the UoL campus by organising a painting contest.
About 100 participants took part in the contest, in which 20 students came from the Delhi Public School in Leh.
The topics for the competition were Corruption Free India for a Developed Nation and Swachh Bharat.
Along with the teachers and participants, Registrar, UoL, Prof Ashok Kumar Sharma and the honorary guest Chief Manager, Power Grid, Phyang, Susheel; Programme Coordinator, NSS, Dr Aseem Vashisht and Dean, Student Welfare, UoL, Dr Jigmet Deachen attended the function.
Registrar, UoL congratulated the NSS unit for successfully organizing an event that attracted a sufficient number of participants.
In the competition, Stanzin Chosphel secured first place among the students, while Fatima Souqra of the TTM department secured first place among university participants.
Programme Coordinator, NSS, Dr Aseem Vashisht and Dean of Student Welfare, UOL, Dr Jigmet Deachen coordinated the event. The organizing committee included representatives from Power Grid, including Chief Manager, Susheel; Junior Engineer, Neeraj; Dr Sharanjeet Dhawan; Dr Qutsia Tabasum and Dr Stanzin Angmo.