University of Ladakh's 20-day mega sports event commences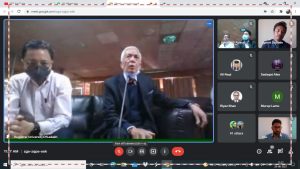 Leh, June 28: Department of Student Welfare (DWS), University of Ladakh, in collaboration with the Department of Physical Education and Sports (DPES), Campuses and Colleges, is organising 20-day online mega sports events starting today.
During the inaugural session, Dr Amjad Ali Abassi from DSW welcomed the guests and gave an overview of the event with various activities, including sports demo and quiz competitions, fitness session and yoga certificate course.
Prof Deskyong Namgyal, Dean Academic Affairs, University of Ladakh, appreciated the organisers for conducting a sports event virtually. He shared that UoL is doing its best to organise various other activities besides academics.

Imteeaz Kacho, Registrar, UoL, stated that campuses and colleges' students would have a good time over the next few weeks. He added that UoL would organise such events regularly in the coming days.
C Phunsog, Vice-Chancellor, UoL, shared that UoL had to organise the event virtually due to the ongoing Covid-19 pandemic. He expressed hope to organise the event conventionally soon. He encouraged the students to participate in sports other than the regular curriculum.
The Vice-Chancellor informed the audience that participating in such sports events would help them develop their personality development and character. He highlighted the four fundamental aspects of higher education: imparting knowledge, moral character, sporting spirit and promoting creativity among the students. The Vice-Chancellor appreciated the DSW for organising the event.
Dr Ujwala gave the vote of thanks, whereas Dr Jigmet Dechan, Director, DPES, UoL, moderated the event.
C. Phunsoq, VC, UoL; Imteeaz Kacho, Registrar, UoL; Prof. Deskyong Namgyal, DAA/COE, UoL; Dr Amjad Ali Abassi, DSW, UoL; Directors Kargil and Deputy Director Leh Campuses, Principals, all constituent colleges, faculties of campuses and colleges and participants of different sports disciplines took part in the inaugural session