University of Ladakh conducts one day webinar on preparation strategies for UGC NTA JRF/NET/SETexams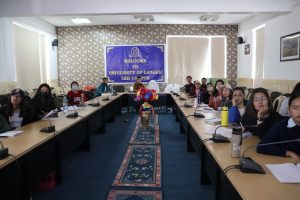 Leh, 04 June: Leh Campus (Taru) and Dean Students Welfare, University of Ladakh have jointly conducted a one day national webinar on preparation strategies for UGC NTA JRF/NET/SET exams.
The objective of the webinar is to orient the PG Students of the University of Ladakh regarding the various aspects of the UGC NTA NET JRF exams.
Former Principal, Ishwar Deshmukh College of Physical Education, Dr Anil Kumar Karwande spoke on the concept of UGC NET JRF exams and also highlighted the benefits of clearing UGC NET/JRF/SET exams.
Coordinator NET JRF Gurukul, Mumbai , Sangeeta Kharee discussed and shared some important tips on different topics of the paper-I of the UGC NET JRF NET exams.
Director of Leh Campus, Konchok Angmo virtually joined the event and the Dean of Research, University of Ladakh Dr Sonam Joldan presided over the main venue at the Conference Hall of the Leh Campus.
All the faculty and students of Leh and Kargil Campus of the University of Ladakh joined the webinar from their respective classrooms through smart/Interactive Boards.
It is pertinent to mention here that qualifying for the UGC NET examination is a mandatory requirement for the grant of a Junior Research Fellowship (JRF); pursuing a PhD, and appointment as Assistant Professors in Colleges and Universities across the country.
The session was coordinated and conducted by Dr Jigmat Dachen, Dean Students Welfare,University of Ladakh.