Union Home Secretary chairs meeting to review the utilization of funds & pace of implementation of developmental schemes in UT Ladakh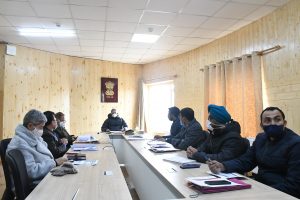 Leh, February 04: Union Home Secretary, Ajay Kumar Bhalla chaired a virtual meeting with the UT Administration to review the utilization of funds & pace of implementation of developmental schemes for the financial year 2021-2022 in Ladakh.
Advisor Ladakh, Umang Narula briefed the Home Secretary about the progress of developmental projects & Schemes in UT Ladakh.
The Administrative Secretaries gave detailed presentations on the developmental achievement of their respective departments for the financial year 2021-2022. The major projects that were completed include Integrated Solid Waste Management Plant (ISWMP), Leh, 180 bedded additional facilities at both Leh and Kargil District Hospitals (90 bedded each) comprising of 20 Pediatrics ICU, 20 Adult ICU, and 140 Oxygenated beds, construction of open synthetic track and astroturf football stadium at Spituk, Leh, ICT labs in schools and colleges and distribution of Yountab (tablets) to students of class 6-12th, installation of 100 polycarbonated green houses, procurement of snow clearance machines of Rs 30 crore, construction of 300 km of road and 5 bridges, construction of 18 helipads and one Hangar, etc.
Further, Union Home Secretary was informed that under Jal Jeevan Mission about 30% of households had been provided with tap water connections. The Union Home Secretary was also apprised about the collaboration with IITs of Delhi, Bombay, and Kanpur for establishing of Engineering College at Kargil besides collaboration for internship and fellowship.
Lauding the efforts of the UT Administration, Union Home Secretary, appreciated the progress in various works undertaken in Leh and Kargil districts and assured all requisite support from the Ministry of Home Affairs.
He asked the UT Administration to ensure that all works planned in 2022-23 start at the earliest possible and projects that are completed in 2021-22 are utilised by the stakeholders and beneficiaries.
The meeting was attended by Principal Secretary, Dr. Pawan Kotwal; Commissioner Secretary, Ajeet Kumar Sahu; Administrative Secretaries, Preet Pal Singh, Padma Angmo, Saugat Biswas, Mehboob Ali Kacho, Ravinder Kumar, and Deputy Director Planning, Tsering Angdus from UT Ladakh. Additional Secretary, Piyush Goyal, AS & FA, Rajit Punhani, and Joint Secretary, Ministry of Home Affairs were also present in the meeting.