Two-day's workshop on implementation of Jal Jeevan Mission organized at Leh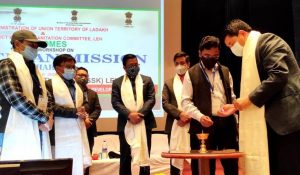 Leh, July 22: In order to improve implementation and capacity building of stakeholders, two-day workshop on the implementation of Jal Jeevan Mission in Ladakh was organized by the Public Health Engineering (PHE) Department, UT Ladakh in coordination with National Jal Jeevan Mission, Ministry of Jal Shakti, Govt. of India at Leh
On day 1 at inaugural address, Chairman/CEC, LAHDC Leh, Advocate Tashi Gyalson impressed upon the concerned officials to ensure that the mandate of JJM which aims to provide quality and safe drinking water to every household, is not compromised. He urged all public representatives to monitor and supervise ongoing works under the project and resolve issues in coordination with public and officials so that Leh can achieve its target on time.
Earlier, Commissioner Secretary, PHE/ I&FC, Ladakh, Ajeet Kumar Sahu, gave detailed presentation on the status of implementation of Jal Jeevan Mission in UT Ladakh. He informed gathering about target and the physical progress of functional household tap connection (FHTC) coverage, 100-days campaign, financial progress, water quality and lab status, skill development plan, greywater management plan, geo-tagging and future action plan. He stressed on developing sense of community ownership in order to make JJM sustainable at village level.
Director, National Jal Jeevan Mission (NJJM), Pradeep Singh, apprised the officials of the challenges and mitigation in UT Ladakh to achieve the objectives of Jal Jeevan Mission. He emphasized need of keeping the scheme sustainable throughout the year.
Later, all Block development Council Chairpersons who are heading block level water and sanitation committee and Assistant Executive Engineers (AEEs) gave PPT presentations of their respective blocks on the current status, challenges, strategies and timeline to achieve target of FHTCs on time.
The Third-Party Inspecting Agency (TPIA) and Implementation Support Agency also presented their progress of work in JJM in terms of quality check of ongoing works and community mobilization respectively.
On day 2, in his address, Additional Secretary and Mission Director, National Jal Jeevan Mission (NJJM), Sh. Bharat Lal urged all the stakeholders to implement the scheme on a mission mode with community partnership .He also highlighted need of making water testing a part of the Jan Movement, strengthening the Village Water and Sanitation Committee (VWSC) and improvising hygiene culture in schools and Anganwadi through Jal Jeevan Mission.
DC Leh Shrikant Suse highlighted need of speeding up execution of works on ground without compromise on quality through active monitoring by Village Water and Sanitation Committees in their villages and shared future plans of organizing similar workshops at block and village levels to increase awareness about JJM .
Later, National Jal Jeevan Mission experts gave detailed presentations on various aspects like Information Education and Communication (IEC) activities, technological solutions , best practices, contract management, Integrated Management Information System (IMIS), Internet of Things (IoT) implementation in JJM.
In concluding remarks, Member of Parliament, Ladakh Sh Jamyang Tsering Namgyal appreciated PHE department for organizing the two-day workshop to improve implementation aspects of JJM in coordination with active participation of public representatives and urged all to continue hard work to provide access to safe and quality of drinking water to every household in Ladakh within deadline.
Executive Councilors and Councilors, LAHDC-Leh, Block Development Council Chairpersons , officials of PHE department and district officers actively participated in two days workshop.