Two-day training session on all module of PFMS concludes in Leh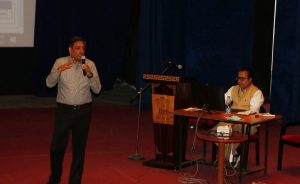 Leh, Aug 19: The two-day training/handholding sessions on all module of Public Financial Management System (PFMS) for all Drawing and Disbursing Officers (DDOs) mapped with Public Accounts Office (PAO) Leh and Cheque Drawing and Disbursing Officer (CDDO) Khalsti and officers/ officials of Accounts Services, concluded today.
The training is organised by the Finance Department, UT Ladakh in assistance of the office of PFMS Division, Controller General of Accounts, Ministry of Finance.
The resource person from PFMS Division, Ministry of Finance, included Senior Accounts Officer (Sr. AO), Seema; Sr. AO, Pradeep Kumar Deshmukh; Accounts Officer (AO), Anil Kumar Mahendru; Assistant Accounts Officer (AAO), LB Gupta; AAO, Rajeev N Kaushik and AAO, Prem Kumar. They all focused on different PFMS modules, such as General Provision Fund (GPF)/Pension, Employees Information System (EIS), Non-Tax Receipt Portal (NTRP), Public Accounts Office (PAO), CCDO and Banking Module during the two-day training session.
The DDOs and CDDOs along with the officers and officials of Accounts Services were trained on updation of office details on the PFMS Portal, data entry for employee basic details, employee bank details and government quarter details, data entry for loans/recovery, entry of advance details, recovery of excess payment, special festival package advance entry, addition of exceptional rules, eligibility for exceptional allowances/deductions for a specific employee, 7th pay allowances and deductions for UT Ladakh, view draft salary for confirmation of pay details, verification of employees data by DDO checker, attach/detach employees to bill groups and pay bill processing among other online services.