Two-day camp organised to issue disability certificate in Khaltse sub division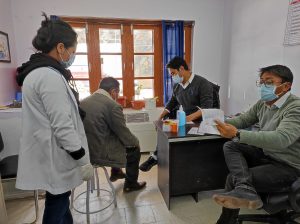 Leh, March 11: A two-day camp was organised in Khaltse subdivision today to issue disability certificates to the person with disabilities at Community Health Center (CHC) Khaltse in presence of Deputy Chief Medical Officer, Leh, Dr.Manzoor-ul-Haq.
Recently, the UT Ladakh Administration constituted a committee of specialists for screening persons with disability to access and issue disability certificates.
Dr. Tsewang Dorjay Orthopedic and Dr. Dawa ENT examined and screened persons with disabilities. Dr Chamba Laskit, BMO Khaltse, Doctors, paramedical staff members from various villages of sub-division Khaltse were present during the camp.