Training program for Haj pilgrims held in Kargil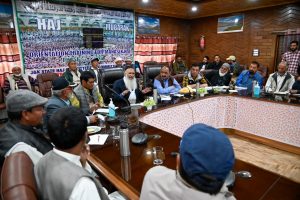 KARGIL, MAY 19, 2022: A training program organized by All India Haj Committee and State Haj Committee J&K in collaboration with District Administration for the selected Haj pilgrims of Kargil district was held today at Conference Hall Baroo.
Additional Deputy Commissioner Kargil Ghulam Mohi-Ud-Din Wani, Executive Officer, J&K Haj Committee Abdul Salam Mir and a number of Hajis attended the program.
The ADC thanked the State Haj committee J&K for conducting the orientation program and requested the pilgrims to get be prepared for the long journey. He said the Government of India and the UT Administration has made all arrangements for the annual Haj pilgrimage.
The ADC thanked the concerned organizations for conducting the program and hoped that this year the Hajis will perform their Haj with peace and will return back with satisfaction.
During the program, Dr Abdul Samad Mir presented a detailed presentation to the Hajis and gave them awareness about various vital components and practices during the Haj.
Later, the Hajis expressed gratitude to the administration for holding the orientation program and they also actively participated in the question and answer session.