Traffic Police launches signature campaign seeking cooperation from people to obey traffic rules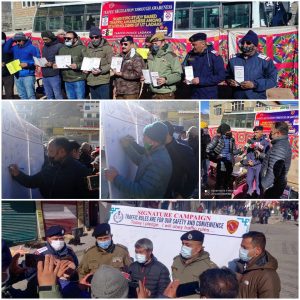 Leh, Dec 29: To seek cooperation from people to obey traffic rules, while strictly adhering to COVID-19 SOPs, Traffic Police Ladakh, today launched a two-day signature campaign in the twin districts of Leh and Kargil. In Leh, the signature campaign was launched at Balkhang Chowk in the main market and New Bus Stand in Kargil.
Regional Transport Officer (RTO), Ladakh, Tsering Paldan in presence of SP Traffic, Mohd Rafi Giri pioneered the launch of signature campaign in Leh. While in Kargil, Assistant Regional Transport Officer (ARTO), Khadim Hussain along with Dy SP, Headquarter, Kargil, Aslam Mir and Tehsildar, Kargil, Mohd Salim Wazir launched the campaign.
Speaking on the occasion, RTO Ladakh appreciated traffic police for launching such a campaign to spread awareness on adherence of traffic rules. He said that both the Transport Department and Traffic Police are jointly involved in different initiatives/pursuits to improve the traffic and transport scenario of the UT Ladakh and added that the cooperation of people is an essential part in achieving these goals.
Similarly, ARTO Kargil said that traffic awareness is the need of the hour as Ladakh is a popular tourist destination which sees huge tourist influx every year, especially during summer season.
Other officers, such as Dy SP, Traffic Leh, Mohd Baqir, Dy SP, Headquarter Kargil, District Traffic Inspector (DTI), Leh, Dorjay Angchuk and DTI Kargil, Kacho Sadat Ali appealed the public and commuters to obey traffic rules and refrain from violating them.
It was shared that the incident of wrong parking is one of the main violations that Traffic Police comes across mostly during the tourist season. The said campaign would be launched at Choglamsar and Drass on 30th December.
Moreover, traffic awareness pamphlets, face masks and sanitizers were distributed among the signatories.