Traffic Police Ladakh organizes traffic awareness program at Kargil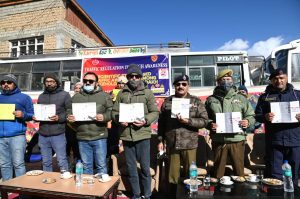 KARGIL, DECEMBER 29, 2021: Based on a scientific study, Traffic Police Ladakh today organized one-day Traffic Awareness Program on traffic regulations here at Bus Stand Kargil to sensitize the general public and the drivers for safe driving.
Assistant Regional Transport Officer (ARTO) Kargil, Khadim Hussain, Dy. SP Headquarters Kargil, Mohammed Aslam Mir, Tehsildar Kargil, Muhammad Salim Wazir, District Traffic Inspector (DTI) Kargil, Kacho Sadat Ali, Incharge Police Post Kargil, Tsewang Stanzin, representatives of transport associations, besides officers of concerned departments and civil society members attended the program.
On the occasion, ARTO Khadim Hussain said that all stakeholders of the society must acknowledge their responsibilities for better traffic management and regulation.
He said that unorganized traffic is one of the reasons for road traffic accidents and roads are not maintained in accordance with the increasing number of vehicles adding there are also less spaces for parking, leading to traffic mismanagement.
The ARTO said that a city's prosperity is reflected by its traffic management. He said, therefore, efforts like the promotion of the traffic system besides other provisions should be followed on priority.
Dy. SP Headquarter Muhammad Aslam Mir said that traffic is everyone's necessity. "It is an organized activity. Therefore, we all must remain cautious while driving on roads," he said.
On the occasion, he also briefed the audiences about traffic laws and implementation of traffic rules while expressing hope that more such awareness programs be organized in the future.
During the program, pamphlets on Traffic Regulation by Ladakh Police were distributed among the general public by the dignitaries. Also, a signature campaign titled 'pledge to follow traffic rules' was also held. DTI Kacho Sadat Ali conducted the program proceedings.