TLSC Drass organizes awareness program on sexual assault, crimes related to women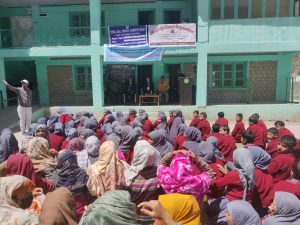 KARGIL, APRIL 26, 2022: Tehsil Legal Services Committee (TLSC) Drass in collaboration with Humas Upliftment Organization today organized an awareness program on sexual assault and other crimes related women at High School Thasgam.
Chairman TLSC Drass was the key speaker of the program. The program was attended by Muhammed Mushtaq Chirag General Secretary Humas Upliftment, Rehana Panch Thasgam, Muhammad Qadir Panch Sumat, staff of sub center Thasgaam, villagers, students and teaching and non-teaching staff, members of the school and PLVs of TLSC Drass.
The program started with the warm welcome speech by master Sajjad. The General Secretary Humas Upliftment deliver his speech on sexual assault on behalf of the organization and thanked chairman TLSC for organizing such fruitful programs in collaboration with his organisation.
Chairman TLSC Drass while emphasizing the villagers and students said that men and women have equal rights in the constitution and highlighted that sexual abuse has been a prominent topic of public concern for more than a decade now.
The program ended with the vote of thanks by Principal High School Thasgaam, Muhammad Saleem.