TLSC Drass celebrates World Water Day at Thasgam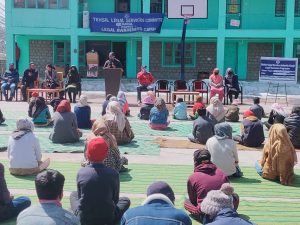 KARGIL, MARCH 22, 2022: Tehsil Legal Services Committee (TLSC) Drass today celebrated World Water Day at high school Thasgam Drass.
Chairman TLSC Drass was the key speaker of this program. He briefly explained the importance of water steps that are needed to save water for future generations.
The program started with the welcome speech by Ghulam Hussain (master) after which students presented their topics on the importance of water and role of society to save water resources.
The program was attended by all staff of the above-said institution, all PLVs and students. The event concluded with vote of thanks of by Headmaster High School Thasgam, Muhammad Shookr.
The day is an annual observance that highlights the importance of freshwater. The day is used to advocate for the sustainable management of freshwater resources.