TLSC Drass celebrates Gandhi Jayanti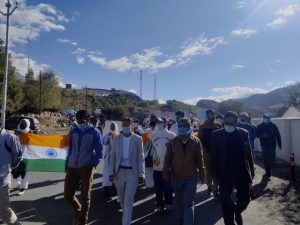 KARGIL, OCTOBER 02, 2021: Tehsil Legal Services Committee (TLSC) Drass celebrated Gandhi Jayanti here today.
A rally was held from TLSC Office towards Drass Main Market in which the students of Goverment Degree College Drass, Higher Secondary School Drass and local Karate Club participated.
In her address on the occasion, Chairman TLSC Drass Deldan Angmo stressed the participants to follow the Gandhian path of truth and non-violence. She said that Gandhian ideologies have enlightened India as well as the world, and we should strive to follow these ideologies in our day to day life for a happy, prosperous, healthy, harmonious and sustainable future.
Principal Higher Secondary School Drass Khurshid Ahmad, SHO Drass Haji Feroz Hussain, BDC Chairperson Upper Drass,other concerned officers besides locals also took part in the rally.