Tehsildar Diskit inspects various areas to ensure implementation of Covid-19 SOPs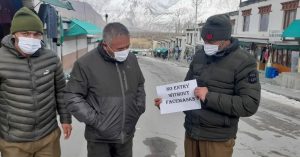 Leh, Jan 13: On the direction of District Magistrate Leh, a Covid-19 inspection drive was conducted in Nubra by the local administration in collaboration with Police Department. The inspection drive was headed by Tehsildar, Diskit, Tashi Jorgais.
The inspection team instructed the public transport, shops and restaurants at various areas, such as Diskit, Hunder, Partapur and Skampuk to display banners and posters of 'No Entry without Facemasks' as per the new COVID-19 SOPs issued by the District Disaster Management Authority.
The inspection team also imposed a fine of Rs 7000 from violators of Covid-19 SOPs.