Team Ladakh shines at 17th National Speed Skating Championship at ISKATE, Gurugram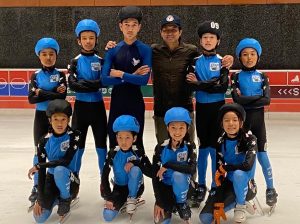 Leh,June 1: Mehvish Fatima from Chuchot village, Ladakh wins silver medal in National Ice Short-track speed skating under-10 category at the 17th National Speed Skating Championship at ISKATE, an all weather indoor ice skating arena located at Gurugram on May 31.
She also received a cheque of ₹15000 as prize money and a silver medal from the General Secretary, Ice Skating Association, India.
On the concluding day of the championship, all the final races of the different age groups were conducted where more than 100 speed skaters from across the country participated in the championship.
Representing Ladakh in other categories such as the Under-13 category, Tasnia Shamim secured 5th position out of 8 finalists.
Skarma Tsultim and Edzes Angmo secured 5th and 6th positions respectively out of 7 finalists in the under-14 category. While, in the Under-13 category for boys, Phuntsok and Tonyot secured 5th, 6th position and Mustafa secured 7th. Also, in the Under-15 category for boys, Mohd Saquaf secured 3rd in semi-final and Gulam Abbas bagged 4th in the semi final.
President, Ice Skating Association of India along with General Secretary spoke on the occasion and also distributed momentous to the National coaches and medals, prize money/cheques and certificates to the winners. Skaters and officials from other states praised and applauded team Ladakh for participating in the National championship for the first time.
The Ice skating team of Ladakh was led by Coach, Mohd Abbass Nordakh.
Skaters from Ladakh as beginners gave their best performance by advancing their own personal best timing under 1:44:25 in 500 meter of 8 rounds of the rink.Team Ladakh performed extremely well and the young talents can perform better with the time and continuous training in the future.