Taxi Union Kargil meets Divisional Commissioner, Ladakh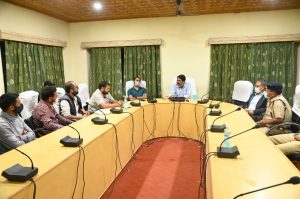 KARGIL, AUGUST 10, 2021: Divisional Commissioner cum Secretary Transport Ladakh Saugat Biswas met with the representatives of the Taxi Union Kargil to discuss the route permit issue at Tourist Facilitation Centre here on Sunday.
Deputy Commissioner and CEO, LAHDC, Kargil Santosh Sukhadeve, Additional Deputy Commissioner Kargil Tsering Motup and representatives of Taxi Union Kargil were present on the occasion while the RTO, Ladakh; ARTOs of Leh and Kargil attended the meeting through video conference.
The representatives of Taxi Union Kargil urged the Secretary Transport to allow them to freely ply on the inner routes of Ladakh without any interruption. They further requested to remove all blockades in both the districts of Leh and Kargil and also demanded to approve and revise the new rate list for the taxi operator unions.
Secretary Biswas gave a patient hearing to all concerns and grievances of the taxi operators and assured them to consider the issues for appropriate measures. Biswas assured that there is no restriction on vehicles from Kargil or Leh who possess State Permit for plying on their designated routes in Ladakh. Biswas urged that the Taxi Union Kargil resolve the recurring dispute arising between the Taxi Unions of Leh and Kargil by mutual talks with the mediation of the LAHDCs of both Kargil and Leh, and arrive at an amicable solution. He also said that both CEC's of Leh and Kargil LAHDCs have been requested to mediate and resolve disputes between the Taxi Unions. He urged that the Taxi Unions of both the districts must work in close cooperation to maximise the benefits and provide high quality service and comfortable experience to the tourists.
Biswas appreciated the Taxi Union Kargil for their resolve to assure Leh Taxi Union to ply their vehicles on all applicable routes in Kargil district. He further assured the taxi operators that the new revised rate list will be notified soon.